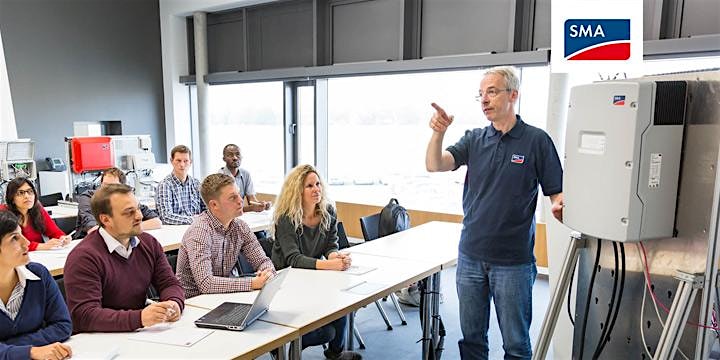 Commissioning of Off-Grid Systems with Sunny Island battery inverters
Commissioning of Off-Grid Systems with Sunny Island battery inverters | 07 - 08 Nov
Thank you for your understanding, that we can currently only accept fully vaccinated or recovered attendees in our face-to-face seminars who also have tested negative for COVID-19 within the last 24 hours. Persons who have received a booster vaccination do not require a negative test. This regulation allows us to satisfy the high training demand faster and with improved safety standards.
In many sunny regions of the world SMA Off-Grid systems have already become the most reliable way to provide electrical energy to consumers.
The professional installation and commissioning of SMA Off-Grid systems are essential to ensure the expected operation of all devices and a reliable power supply to the loads.
The commissioning of all SMA devices can be done by the plant designer him- or herself. Local commissioning significantly reduces the cost and effort of the project.
After this advanced training you should be able and qualified to commission single-device and single-cluster systems according to the SMA commissioning process.
Please do not forget to bring your laptop and a voltage measuring device (DC/AC). This training consists of two days and includes lessons and practical workshops at the SMA Hybrid Test Center.
Target group:
Renewable energy professionals
Prerequisites:
The successful participation in the seminar "Designing of Off-Grid Systems with SMA Sunny Island Battery Inverters & Multi-Cluster Boxes".
Contents:
SMA commissioning process for off-grid systems without Multi-Cluster Boxes
Off-grid settings of SMA Sunny Tripower inverters
Basic and advanced settings of the SMA Sunny Island inverter
Off-grid settings of Data Manager M
Configuration of Sunny Portal powered by ennexOS for Off-Grid systems
Workshops with three-phase single-cluster systems and the Data Manager M
Language:
English
Please contact your Foreign Office to find out about the entry requirements for Germany that apply to you. There may be a quarantine obligation upon entry, which you must take into account when planning your trip.